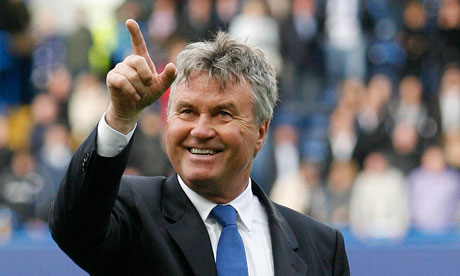 Guus Hiddink has offered the clearest hint yet that he favours a return to Chelsea, with whom he won the FA Cup in 2009.
The Turkey coach, who has been linked with a return to Stamford Bridge since Carlo Ancelotti was sacked on the final day of the Premier League season last month, said: "I never told anybody that I was going to continue working with Turkey.
"I feel energetic and I like working every day. I feel I need to do more, so a club role is more preferable than coaching a national team. I haven't told the president of the Turkish FA. But he is an intelligent man and I'm sure he follows the world's media. There is no official offer yet, so I cannot guarantee anything."
"I feel I need to do more. I've trained Australia and PSV at the same time, as well as Russia and Chelsea, and I was very happy. We'll see what happens with Turkey."
It has been reported that the 64-year-old Dutchman will open formal talks with the owner of Chelsea, Roman Abramovich, after Turkey's Euro 2012 qualifier against Belgium on Friday.